Are you looking for Walk in Interview in Qatar? If yes, Don't worry, we can help you. Many public or private Companies, Schools, Hospitals and Government sector hire professionals, So you can find today job interview in Qatar 2022.
Some jobs are suitable for freshers and fresh Graduates. Many Qatar airways walk in interview in Doha and Walk in interview for civil engineers.
We listed 100+ Qatar Walk in interview 2021. Some interview are suitable for Indians and Pakistani freshers. We collecting all job descriptions in daily news papers jobs, Gulf times, Qatar chronicle, Qatar living jobs and etc… We listed Qatar Walk interview for cabin crew and Qatar Petroleum with different categories of recruitment's Interviews like, Accountant and Finance, Engineering and Civil engineers, airways (Etihad and Emirates), cabin crew, Sales and Marketing, Driver, Teaching, Human Resources (HR), Telecom, IT, Healthcare, Nurses Designing and Architecture, Petroleum and etc..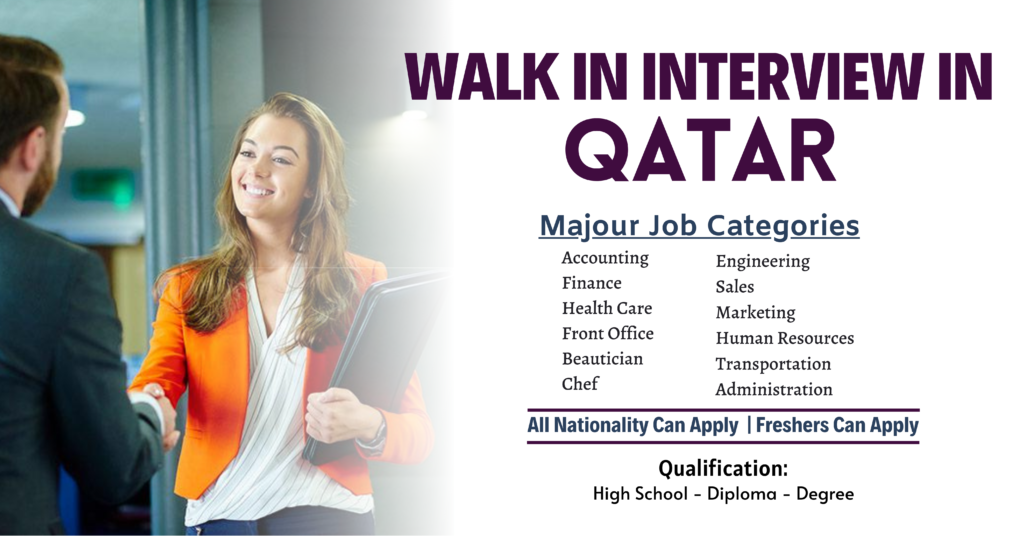 Walk in Interview in Qatar 2022
If you are ready to apply for this Walk in interviews in Qatar, you can see the list given below and you can find the list of job vacancies in Qatar with company Name, location, salary and method of Application (hr email address or Contact Number or Apply Now Button).
We listed latest Job interview in Qatar. If you are interested these interviews, today or tomorrow you can apply easily with your latest Resume. Many Careers openings for Indians in Qatar Airways, Petroleum and hiring Cabin crews. Some vacancies are hiring in 2022.
We are not any recruitment agency, only helping for finding current job vacancy in Qatar so we not include any part to the recruitment process. So please stay tuned freshjobsworld.com for the new careers updates.
The Management Consultancy Division of Qatar Design Consortium (QDC) is seeking to hire a Full-time Management Consultant to be part of its well-established and leading ISO consultants team – Qatar. As a Management Consultant, you will provide consultancy services to clients in Qatar and abroad.
Specific roles and responsibilities includes
Providing Consultancy services to clients in Qatar and abroad.
Providing training in ISO and related subjects
Conducting internal and external audits
Developing documentation for fulfilling management system requirements
Assisting clients in implementing management system requirements
Performing project management of clients for ISO certifications from initial stages to certification
Managing and improving management systems of clients
Motivating and providing leadership skills to team and assistants
Be part of the business development and annual target of the division
Reporting the performances of the projects and suggesting improvements
Acquiring knowledge and skills while working and sharing the knowledge with the team
For success in this position, you will possess the following skills and qualifications:
Bachelors and/or Master's degree
Minimum 5 to 8 years of experience in consultancy field.
Lead auditor in ISO 9001, 14001, 45001, etc and good technical knowledge on these
Excellent communication skills and ability to interact at all levels.
Good business development skills
Well-developed social communication skills
Ability to develop, mentor and lead professional and technical staff.
Flexible and able to meet challenging deadlines.
Time management and determination to excel
Qatar or GCC experience is desirable.
Bi lingual – (English and Arabic) – will be an advantage
ISO 27001, ISO 22001, ISO 22301, ISO 55001 certifications – will be an advantage
Additional elements:
Valid driving license in Qatar – will be an advantage
Valid Qatar ID and transfer possible
Worked individually and helped clients certify for ISO Standards.
If interested send your C.V to: isoconsultant@qdcqatar.net
A QATARI FAMILY is in urgent need of a Full time Cook – Indian male, Muslim Experienced in Hotel and Restaurant cooking. Buffet worker: Indian, Male, Muslim, experienced.
Please send your CV to CVdoha2018@gmail.com, Whatsapp contact number 66533844.
Immediate hire for leading company in Qatar who has valid visa with NOC Document controller, Site Supervisor,3-5yr Exp., driving license. Pipe fabricator/Fitter with min 5 yrs exp in oil & gas piping
Send cv to recruitment@qocdoha.com
URGENTLY REQUIRED:
Accountant with Qatar experience. Salary 3000-3500 +all other benefits as per the Qatar labor law.
Contact 74461941, info@firstpest.qa
URGENT HIRING
Temporary Male or Female Secretary (Local Hire Only)
Qualification: Knowledgeable on Microsoft office
Preferably with secretarial experience (3 – 4 Years)
Fluent English (reading & Writing)
Salary will be discussed upon interview.
Please send your CV at E-mail: secretarylandsurvey@gmail.com
Cheerful and Enthusiastic
Bilingual English and Arabic speaking receptionist required to join great team at British International Dental Center (Straight shift only)
Send CV to: ssdcdentalbidc@gmail.com
A Qatar based Oil and Gas Services company with an excellent work environment needs selfmotivated, energetic, ambitious, hardworking personnel for the following position
Trailer Driver
Education & Certification:
Graduate in any discipline
Skills & Competencies:
Must be familiar with routes and traffic rules
Should have a valid QATAR heavy trailer license
Must have a Transferable visa with NOC
Experience:
Minimum 2-8 years experience
Please submit your resume to ptgcareers@gmail.com
URGENTLY REQUIRED for a leading construction company.
Safety officers – minimum 2 years experience.
Civil foreman – minimum 2 years experience.
Accountant – minimum 2 years experience.
Contact 74759631, job42021@gmail.com
NEED A COMPUTER TECHNICIAN / Salesman (Filipino only) to a computer showroom with transferable visa.
Please contact 55819087.
WELDING MACHINE DEMONSTRATOR+Service technician Diploma orITI with 2 years experience in Welding demos MMA/TIG/MIG machine & manage repair, also able to sell Welding consumable. Good communication in English& Hindi and hold Qatar D/L.
Contact biji@oisqatar.com
A reputed Construction company in Qatar urgently requires:
Tinker / Denter / Fabricator
Mixer Driver
Concrete Pump Operator
Pump Helper
Concrete Laboratory Technicians
Interested candidates having transferable visa may apply by sending your updated CV to mathias.almeida@holcim.com
URGENTLY REQUIRED
A leading landscaping contractor in Doha urgently required following position:
Candidates must be good in English with minimum 3 years experience.
Interested candidates are requested to send cv to career@saic.com.qa
URGENTLY REQUIRED
MERCHANDISER for Food Items (FMCG)
Candidates must have at least 2 years experienced in the same field
Excellent communication skills
Good command of English language
With Qatar or any GCC driving license
Visa must be transferrable
Send CV to admin@al-shaabgroup.com
Urgently Required
Female Salon Staff
Specialists
NOC is a must
3+ Yrs of experience
SEND CVs to: hireLFS.qatar@gmail.com
URGENT HIRING
For a Reputed Abayat Company or a Reputed Abayat Company based in Doha, Qatar ased in Doha, Qatar
FASHION DESIGNERS
(Any Nationality) Any Nationality)
(Minimum 5 years' experience) Minimum 5 years' experience)
(Local candidates with NOC or Local candidates with NOC or
Family sponsored will be preferred) amily sponsored will be preferred)
Interested Candidates can forward CV's to: atghr1@outlook.com
Construction Company Require
Registered NURSE Female or male with 2+ years experience in GCC, QCHP license is must. Local Hiring Only.
Send CV on email to procurement@cec-qatar.com
Urgent Hiring – We Need
Civil Engineers – MMUP Certified, Planning Engineers, Safety Engineer- Nebosh IOSH, Engineers, Surveyors.
Qualifications: must Graduate of Bachelor Degree Major/master on Civil Engineering.
Note: For all Vacancies minimum 7 years experience is required, especially in GCC country, applicant must be in Qatar w/ NOC.
Send CV cc @hr@papillon-qatar.com / info@papillon-qatar.com / admin@ papillon-qatar.com or call: 443745547
Gypsum Carpenter
Gypsum wall & ceiling finish carpenter with fine smooth finished with putty, experience 2-3 years in interior finishes. Need transferable visa and NOC to join immediately.
Send CV to situationwantedqatar@gmail.com
Showroom receptionist cum Sales Coordinator:
W/ NOC & Transferable visa. Ready to join immediately. Experience in Sales coordination, data entry and good in communication with clients / customers, showroom visitors.
Send CV to wantedsales21@gmail.com
Wanted Outdoor Graphics Installer:
Outdoor graphics installer in the field of outdoor advertising industry. Having the skills for preparation and production of window display materials, handles and installation for all types of graphic materials. Visa will be provided by the company.
To apply Whatsapp: 50929931, email: printjobsqatar@gmail.com
URGENTLY REQUIRED
Safety Officer
MEP Procurement Engineer
Mechanical Draftsman
Electrical Draftsman
Electrical Foreman
Document Controller
Store Keeper
Electrical Technicians
Mechanical Technicians
Interested applicants may send their CV's at, info@eecqatar.com
Urgently Required
For a leading freight forwarding company required following positions.
Freight operations (Male/female)
Tele sales. (female)
Sales 3 no's (Male/female)
Interested candidates send CV to info@dfsworld.net
A reputed logistics and freight forwarding company immediately hiring accountant cum operation executives with minimum 2 years experience. Applicant must have knowledge about Tally and operation skills.
Please send your CV to catqaccounts@centuryqatar.com
URGENTLY REQUIRED
MEP Project Manager
Sr. Electrical Engineer
Sr. Mechanical Engineer
Site Electrical Engineer
Site Mechanical Engineer
Mechanical Foreman
Interested applicants may send their CV's at, info@eecqatar.com
MECHANICAL MAINTENANCE ENGINEER– Mechanical with UPDA & CMRP Certification Having 3.5 Years Above Qatar Experience in Maintenance at Rotating Equipments (Pumps, GearBox & Rolls)& Pipings. Good Experience in Operation and Maintenance Procedure. Looking for a Suitable Engineer Position. Notice Period: 30 Days (Negotiable 20 Days).
Contact: 70680390, Mail: giridharan.25.1996@gmail.com
TECHNICAL SUPERVISOR, Sri Lankan Male. 16+ total Working experience in Building and Infrastructure Works (Power Grid Substations, Condominium Apartments, Luxury Villas, Luxury Hotels, Hospitals, Steel Fabrication Buildings & Bulk Fuel Storage Tank etc.) Available for Immediate joining with NOC and Transferable visa.
Contact Mobile 30840782, email: ranganadenipitiya@gmail.com
AUTOCAD DRAFTSMAN with 16 Years of Experience in Infra Road, Structural, Architectural, basic knowledge of Civil 3D Looking for job with transferable Visa & Driving License an
Immediate Join Email: mams.siddiqi07@gmail.com, Contact: 30134707.
SALES EXECUTIVE/MARKETING/Customer Service: lndian Male,Having 4 years experience in qatar at the Customer Services and marketing. And 9 + years experienced with Sales Executive position in India (Automotive car & F. M. C. G).
Contact 74737790, shemeer83@gmail.com
ARCHITECTURAL DESIGNER / Site Supervisor : Architect with 7 years experience in Site execution works & design, new in Qatar, With transferable visa, immediate join.
Email: boudjerida.abdelbasset@gmail.com, Phone: 66091153.
CIVIL ENGINEER – Indian, having 10 years of work experience in areas of site engineering, project coordination, quality control and procurement engineering. Excellence in Autocad and MS office. Valid QID. Ready to join immediately.
Contact: 70234710. Email: varghesejos@outlook.com
ELECTRICAL ENGINEER ( UPDA CERTIFIED) – Electrical Engineer, Female , Indian 3 year Experienced in Estimation, Operations, Commissioning in Fire alarm field looking for any suitable position. With Valid QID and immediately available.
Contact – 30353025, Email: jaznajaleel1@gmail. com
HR & ADMIN MANAGER: MBA Qualification with 15 Years Total Gulf Experience & 7 Years in Qatar as Group HR & Admin Manager. Well experienced in Qatar Labour Law, Development of HR policies, Recruitment, Budgeting, Organizational Development, Training & development, KPI, ERP etc. Ready to join immediately.
Contact: 77001135, Email: Muhammad.nouman786@gmail.com
FEMALE ARCHITECT from India with 3 yrs experience, currently available in Qatar, looking for a vacancy. SoftwareAutoCAD, SketchUp, V-ray, Photoshop, Lumion. Good at communication and coordination of work.
E-mail- sreelekha. s95@gmail.com, Mob : +974 30942789.
INDIAN ELECTRICAL ENGINEER (Transferable Visa) with 35 year Hands on Experience in Major Oil and gas, MEP Projects in Qatar is looking for challenging Opportunities in Construction, Projects, QA/QC, Contracts, Inspection. Full Time/ Part Time / Freelancing. Available for immediate joining.
Contact 55669859, goshalagopal@gmail.com
LOOKING FOR SUITABLE JOB any executive assistant position of secretary/administration/logistics/ merchandising & quality.
Contact 30674594, sheeja73@gmail.com
INTERIOR DESIGNER: 3D visualizer & draft man shop drawings in 3 year experience at Doha. Skilled in 3ds max, AutoCAD, sketchup, MSoffice, Photoshop. NOC available, immediate join.
Email: sreenathvilayil@gmail.com, phone: 77978737
Note: We (freshjobsworld.com) are not recruiters, Instead we just sharing available jobs in worldwide, Once you click on the apply / job title, will direct you to the career page of concerned job provider, so freshjobsworld.com is not directly or indirectly involve in any stage of recruitment.